We're proud to announce a new release of CodeScene, version 4.0!

The most visible change in the new CodeScene is the user interface. We have re-worked and clarified the code health trends so that it is easy to visually spot problematic hotspots. We also improved the responsiveness of the user interface so that the tool behaves well even with hundreds of analysis projects. CodeScene 4.0 also emphasizes its support for context-specific goals, which are an important part of our workflow for managing technical debt.

In addition to that, we also introduce several important features like mining defects from GitHub issues, custom reports, and an expanded REST API for managing projects.
New Features
New Dashboards: CodeScene 4.0 introduces a new user interface that makes it easier to navigate, filter, and explore. We have also optimized the performance for users that have many CodeScene projects. You'll never miss a critical hotspot.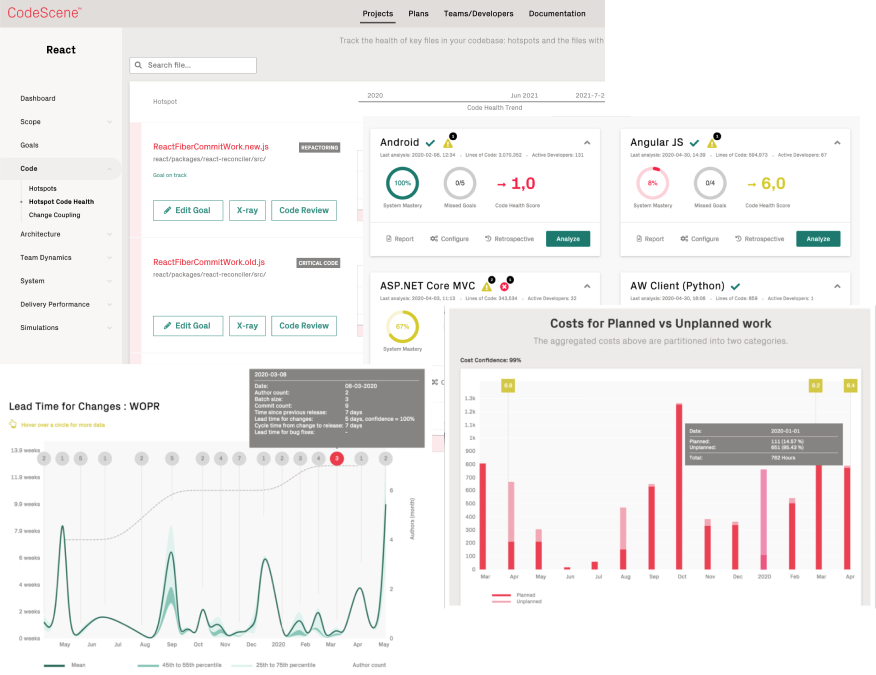 CodeScene 4.0 introduces a new user experience with new dashboards.
Configurable Code Health Rules: Adapt CodeScene's Code Health rules to your coding standards.
Provide customizable reports: CodeScene has come with a set of pre-defined reports that you can subscribe to. This new version lets you configure a custom report including all your KPIs, and then have CodeScene auto-generate and email you that report. The custom reports are supported as pure CSV adapted for Excel and other spreadsheet applications.
Integration with Azure DevOps for Cost Trends and Delivery Performance: In addition to Jira and Trello, CodeScene now integrates with Azure DevOps. Use this integration to put your technical and organizational metrics into a business context. See an example here.
Mine Work Trends and Defects via GitHub Issues: In addition to the existing Jira/Trello/Azure DevOps support, this new version lets you use GitHub issues as a defect tracker to calculate defect densities on hotspots.
Calculate defect density on a function level via X-Ray: When prioritizing refactorings, it's great to know if any specific function or method is more error prone than others. CodeScene's X-Ray analysis can now present these statistics for you.
Drill-down into the Cost Trends to explore details: Click on the System Level cost trends to see a detailed breakdown of the development costs for all issues.
Expanded REST API for project configuration: Import teams and manage the configured Git repositories via CodeScene's REST API.
How did you track refactoring progress/results?
Quicker, search-able, and paginated Developer configuration view.

Make the maximum Pull Request size for delta analysis configurable.

Remove the obsolete complexity trend warning and high risk commit warning since these are better handled in the delta analysis.

Re-trained Code Health algorithms based on more available data.

Present historic code health score summaries using high-precision scores for the new UI.

Delta analysis: warn for new code with lower code health.

Correct the Jira analysis error for story points with floating values.

Support pair programming defined in the author field of a commit.

The Rest API endpoint for architectural components should include all relevant info that can be seen in UI.

Minor bug fixes and improvements.
We hope you will enjoy these new features as much as we do! Remember that you can read more about CodeScene here.